Any visitor to Greece will have noticed an astonishing number of roadside shrines. A brief acquaintance with Greek driving might also lead one to conclude that each of these represents a life lost on the roads. The truth is that this is not always the case, and though many do appear to be in memory of departed loved ones, some are erected in thanksgiving for a narrow escape or, I presume, as an act of piety, giving physical location to one's devotion. Many are in the form of churches, though others are a simple wrought iron box with a cross on top. They contain icons and oil lamps, which are frequently tended.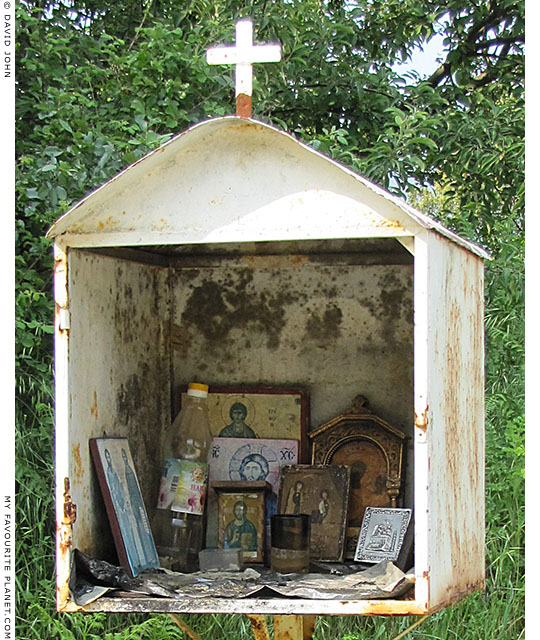 One cannot help but see similarities between these shrines and the spirit houses that are to be found across Thailand and other South East Asian countries. The spirit house also often takes the form of a temple and contains offerings of food, flowers or incense. These are often situated at the boundary of buildings and have similar uses to the Greek shrines - commemoration of ancestors, invocation of supernatural protection, a mark of devotion.
But I wonder if the resemblances are always helpful. Ever since William James, it has been common to look for the common phenomena to be found across different world religions, though in his case, the nature of religious experience was preferred over similarities in practice. The problem is that these phenomena can sometimes conceal significant differences as well as indicating a level of common experience. A simple example is the widely varying interpretations Christians have of the bread and wine they share at the Eucharist. When comparisons are being made across religions, then, it is wise to retain a degree of caution in the correspondences we are tempted to make.
I have no doubt that many human religious instincts are common to many different faiths - the expression of wonder, the hope for one's ultimate destiny, the search for meaning, the deep need to be delivered from harm, the experience of the divine - and there are certainly many superficial similarities as the comparison of these kinds of shrine shows. But we also know that human beings have very differing outlooks on life, different ways of perceiving reality, different ways of being convinced of the truth of a matter. We should not jump to assume that a practice that means one thing in one context means the same thing in a different thought world. Is a Quaker doing the same thing in the silence as a Zen practitioner? Probably not. Does a Sudanese Muslim regard his imam in the same way that a Hindu regards a priest. I doubt it. Does a Greek Christian lighting a lamp in a roadside shrine have the same thoughts as a Thai Buddhist lighting incense in a spirit house? Maybe, but there are also bound to be significant differences. We can only get to these differences by careful listening, and that, I think, is a most urgent task.
In order to know each other better, we need to beware of the trickiness of resemblance!