There is an excellent piece in today's Guardian which defends the work of philosophy against its potlitical detractors. The Australian philosopher Paul Redding responds to a critical comment about a piece of research he is engaged in by offering a well-reasoned defence of the work of interrogating concepts. Concepts 'describe those aspects of thought that enables it to make the right connections: connections with the rest of the world; with other thoughts; and with actions. I use the word "right" here to indicate the possibility of getting these connections wrong.' I am wholeheartedly in favour of this project and think that it is too easy in our public discourse to devalue the careful thinking that is undertaken by philosophers, theologians, historians, literary critics and many others who work in the realm of human thought.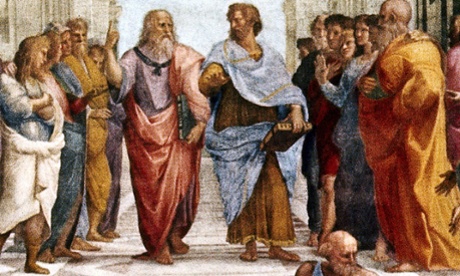 Interestingly, the research he defends concerns the 'concept' of God. From Redding's description, the work is intended to find a reasonable way through the current and noisy debates between 'new atheists' and religious believers. It seeks to do this by examining an earlier conversation between a theologian and a philosopher in the 18th century which provided a new way of looking at the concept of 'God'. I would be very interested in seeing the outcome of this work and it seems to me to be a very worthwhile enterprise, because much of the current debate consists of sterile and sometimes uncharitable rhetoric from both sides.
I am curious about the use of the term 'concept' in relation to God. Clearly, there is a strong sense in which our talk about God is conceptual talk, but religious people would probably not think about God solely or even primarily in conceptual terms, but in experiential or existential terms. There is also a relational dimension to our experience of God and, for many people, a cultic one (I use the term neutrally). Our conception of God is usually a secondary matter, though not an unimportant one. This is not to engage in some kind of obscurantism and I am very much in favour of religious people exposing their conceptual apparatus to wider scrutiny to make sure that they are not making the kind of 'wrong connections' Redding warns us about. To use a very well-worn analogy, the use of conceptual thinking in relation to faith is much like the use of such thinking in relation to our personal relationships: we can talk sensibly and usefully about the concepts of love, marriage or whatever, but we are always conscious that we are dealing in second-level thinking. Our romantic choices are rarely made with the use of a well-crafted algorithm.
But my main reaction to this article is delight that a professional philosopher regards the examination of our religous ideas as a worthwhile enterprise. It does, after all, make sense for us to give careful consideration to one of humanity's most enduring and powerful set of experiences.